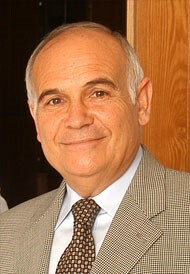 Demes Karapatakis |
Chairman
Mr. Demes Karapatakis is the Chairman of the DJK Group of Companies and holds the most senior role within the corporation. As a pioneer of the leisure, hospitality and entertainment industry in Cyprus, he has been instrumental in transforming the island's leisure and tourism environment into a vibrant market. He is also a major contributor to the Cyprus shipping industry, when back in 1970 he commenced trade in this industry. His business acumen and penchant for the diverse businesses he operates are proof within the successes of the corporation. He continues to expand upon the multi-faceted business focused environment of DJK, whilst still maintaining effective governance over each enterprise.
His passion for the water goes beyond shipping, as an active sportsman; he has participated in international sailing events and competed at the Olympic Games.
The Chairman of the DJK Group of Companies recommends policies, strategic direction and business plans and is also responsible for managing the company's projects and businesses on a day-to-day basis.