Careers & Employment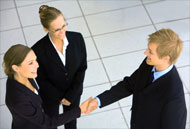 At DJK we take partnering seriously. Our goal is to build long-term relationships with our customers and clients through the provision of high levels of service excellence. We aim to achieve this through the friendly and professional approach of our experienced staff, who we consider to be our most important asset.
Our work environment is focused on teamwork and shared ideas and our employees apply their talents in a myriad of positions from hospitality staff; cinematographers to sales and marketing, construction, support and design; our people thrive on the excitement of collaboration and the discovery of new opportunities. They set their own goals and work hard to achieve them in their own style, as they are encouraged to excel and develop.
Recruitment
DJK is known as a company that cares well for its employees, with competitive wages and quality benefit programs that respond to employee needs and competes within the industry. We engage employees who are dedicated, enthusiastic, and who pride themselves on doing the right thing. We know that good people working together can create dynamic teams that produce incredible results.
The DJK Corporation does not discriminate in employment opportunities or practices on the basis of age, authorised alien status, citizenship, colour, disability, gender, marital status, national origin, pregnancy, race, religion, sexual orientation, veteran status or any characteristic protected by law.
To enquire further on job vacancies click here to contact us and submit your details.