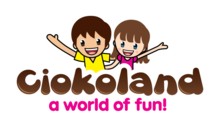 Ciokoland's lovable mascot, Prof Choc welcomes all to the chocolate themed Ciokoland play centre where children of all ages are keep well entertained with numerous play activities and fascinating playful "characters" keeping a watchful eye over them.
Ciokoland features an exciting train ride around a chocolate erupting volcano, a traditional carousel, a jungle gym, soft play area, a fun-ball battle zone, trampolines, climbing wall and much more.
With three unique party rooms to select from, Ciokoland birthday parties are guaranteed to be the talk of the town. Many temptations also await you at Cioko Tastes Great Café where parents can simply sit back, relax and enjoy a sweet treat, a cup of coffee or a delicious meal.
A World of Fun!
Whether you are looking for a great venue for a family outing, a fantastic night out or simply a place to meet for a coffee or a movie, the K Max Entertainment Centre has something for all.